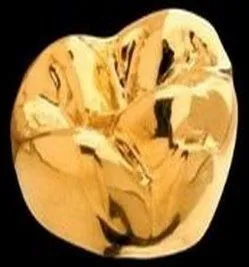 A crown is a tooth-shaped "cap" that covers a tooth to restore the tooth's size, shape, strength and appearance. Some of the reasons a tooth may need a crown are:
to

protect a tooth that is weakened by cracks

to restore a tooth that has already broken

to support and cover a tooth that can no longer hold a large filling

to restore a tooth that has been severely worn

to improve esthetics of a misshapen or discolored tooth

to cover a dental implant

to help support a removable partial denture

to restore a back tooth that has had root canal therapy
The full-gold crowns offer more durability and predictability than the ceramic options. Gold has excellent biomechanical properties and is very gentle to opposing teeth, causing the least wear of those teeth. It can be more closely adapted to the underlying tooth structure than can any other restorative material, but does not have the appearance of natural tooth structure that porcelain has. It will not chip or break. Gold restorations will usually outlast similar restorations made from other materials.